The 7 of Pentacles is a tarot card that mainly represents manifestation and hard work paying off.
When it comes to feelings, or how someone feels about you, there's an interesting interpretation to uncover.
It's important to know what these feelings mean because they can help you understand why people behave in certain ways, and give insight into their motivations.
In this blog post I will give you an in-depth explanation of the 7 of Pentacles with regards to feelings in both the upright and reversed position!
This post contains affiliate links.
7 Of Pentacles As Feelings
When it comes to feelings, the 7 of Pentacles often represents someone who feels willing to move forwards with you, but they are still unsure about their feelings. This could be because it's early days in your friendship or relationship and the person wants to take things slow.
They may be questioning their feelings and whether or not they're reciprocated.
Even though the 7 of Pentacles indicates they're interested, they want to tread carefully and take their time before committing.
It's also about someone who wants to move things forward, but is scared of being hurt by you.
The positive way to look at this is that they want to move things forward with you, but their fear prevents them from doing it.
If you're interested in finding out what type of love & relationship questions are most effective to ask your tarot cards, I've created this other article with 61 example questions that will definitely provide you with some inspiration!
This person will want to take small steps and assess the relationship from time to time in order to make sure you are on the same page.
It may take some time for the relationship to grow and blossom into something more, but in the long run, this can provide a great basis.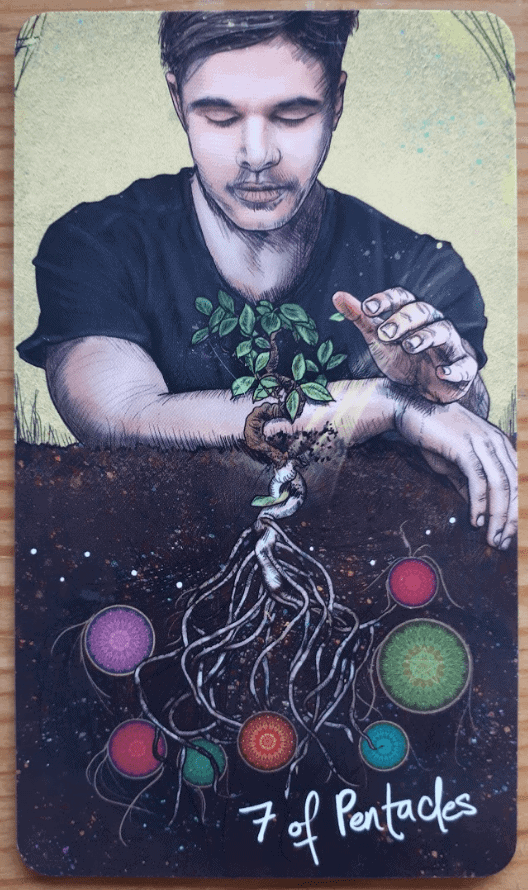 In other words, they want to make sure you both feel the same way about each other and know for sure that it's going somewhere.
Someone who represents the Seven of Pentacles in upright position can often be described as a very logical person who doesn't easily let him or herself get led by their emotions.
They may be hesitant to express their feelings because they want everything to be perfect.
They may also be feeling shy around you and not very good at expressing themselves in a romantic way.
Hey there my dear Cosmic Companion, thanks for being part of the Calming Cosmos tribe 💖!
I am so glad you're here & I hope you find my website enlightening and informative.
Even though I am devoted to share as much knowledge and insights as I can on this blog, nothing compares to experiencing your own personal tarot reading.
The depth, clarity and unique insights of a professional tarot reading can be truly transformative.
Whether you're just getting started with tarot or you've been using this amazing tool for years, every reading has its own special gifts.
That's why I'm so excited that my favorite online tarot platform Mystic Sense is now offering 5 minutes free for your first reading!
A personal tarot reading can help you:
✨ Gain clarity on a specific situation.
✨ Take action to create positive change.
✨ Tap into your inner wisdom.
✨ Understand the deeper meaning of your spiritual journey.
✨ Connect to a sense of peace, joy and self-discovery.
✨ Open the door to new opportunities & possibilities.
I know there are many online tarot reading platforms out there, but Mystic Sense truly stands out.
Their easy-to-use website, experienced readers and outstanding customer service is second to none (not to mention, the glowing reviews from satisfied customers speak for themselves!).
So go ahead & give them a try, take advantage of this amazing offer and explore the mysteries of your inner Universe.
You have nothing to lose and everything to gain!
7 Of Pentacles Reversed As Feelings
When the 7 of Pentacles comes up in reversed position, this usually indicates feelings of doubt and hesitation. The person may not be sure about you, or they could be second-guessing their own feelings. They may be reluctant to commit or move forwards with you.
This could either be due to fear of the unknown or not feeling ready for something new.
The other possibility, and this is more likely if the card comes up alongside another reversed position tarot card, such as The Tower, is that the person may have feelings of being trapped or held back.
They could feel like they're not in control of their own life and this is causing them to hesitate to move towards you in a romantic way.
The reversed position can also indicate that someone is feeling used by you (or the other way around). They may feel like you're taking advantage of them and they're not getting anything in return.
Often though, this hesitation comes from the person's own insecurities. They may feel like they're not worthy of your love, or that you could do better than them.
In order to get back into the positive flow with the Seven of Pentacles in reverse, both people will need to work on their inner selves and improve how they feel about themselves.
It is important to establish a sense of trust and understanding between each-other if this card appears reversed in your reading.
When there's a third party situation involved, your person might be trying to push you away because they don't want any kind of commitment, or perhaps their partner doesn't want you around.
You may be perceived as a threat to the relationship, or perhaps they just think that you're not right for them and they don't want to drag things along any further.
If you are interested in checking some of my personal favorite tarot decks, you can find them by clicking here
In Conclusion
So, to conclude, the 7 of Pentacles in upright position indicates feelings of hesitation and insecurity.
When it comes to love and relationships, this card can indicate that the person is taking things slow because they want to make sure both parties are on the same page.
The person who represents the 7 of Pentacles may be unsure about how you feel about them. This could manifest as feelings of uncertainty which in turn can cause a blockage to move forwards and make their move.
When the Seven of Pentacles presents itself in reversed position during a tarot reading, this usually indicates doubt or second-guessing.
The reversed position could indicate feelings of being held back or trapped, and this may be due to a third party situation.
In any case, it's important that you take things slow and don't rush things, as this person is likely to be very cautious when it comes to their feelings.
If you enjoyed this article and would like to browse some awesome tarot decks that have helpful keywords and meanings featured on them to make your tarot readings flow with much more ease, I've written this other article that may give you some inspiration! Happy reading!