The Fool and Page of Wands as a tarot card combination can be quite challenging to interpret. That's why in this article we'll go over the exact meaning of this interesting couple of tarot cards to help give you some useful insights to apply to your own current situation!
Not only will you find out its general meaning, we'll also cover the meaning of the Fool and Page of Wands together in reversed position.
Now, let's get some clarity!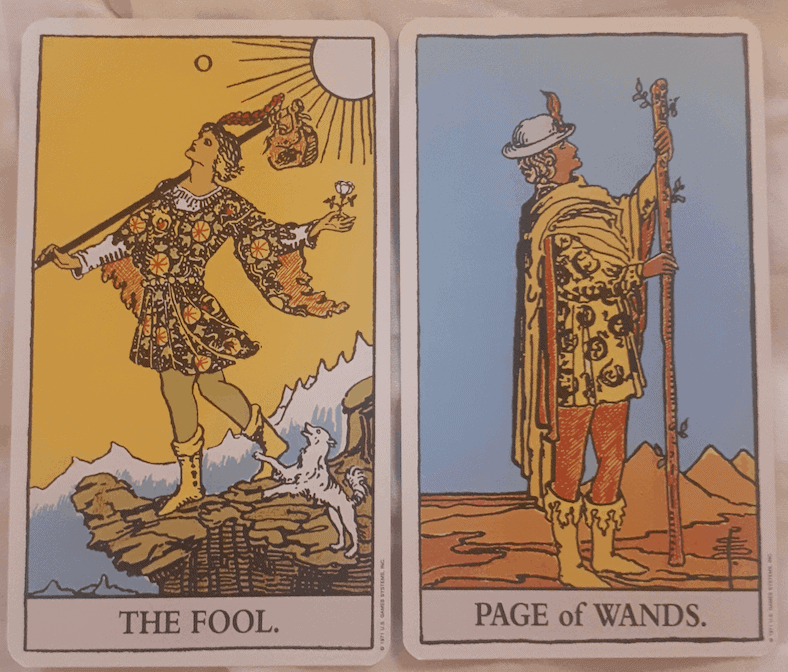 Fool And Page Of Wands Meaning
The Page of Wands and the Fool tarot card combination generally represents a strong longing for adventure and exploration. Even though the Fool and the Page of Wands are quite similar tarot cards, their combination can be interpreted as the ability to learn while taking action.
While the Page of Wands represents someone young and optimistic, this tarot card is also associated with personal growth and a hunger for knowledge. Whereas the Fool is mainly known for its careless and at times immature personality, this tarot combination implies you possess the ability to merge the best of both worlds within yourself. 
There's a sense of consciousness that comes with these two tarot cards combined. It's a clear sign you will soon embark on a new journey where you'll learn as you go. You're open and enthusiastic towards others and are grateful for the knowledge they bring you. 
The Fool and Page of Wands combined indicate you're likely to deepen your sense of purpose while exploring new horizons. Freedom will be playing an important role in the grand scheme of things.