The holiday season is fast approaching, and it is never too early to start preparing for the gift-giving season.
If you have an Aries woman in your life, you're probably already aware that they have an enthusiastic, fearless and dynamic personality that you can't help but admire.
However, finding the perfect Christmas gift for this zodiac sign can be challenging, especially if you are unfamiliar with their unique qualities.
To help you out, I've created this list of 11 best Christmas gift ideas for Aries women that will have them feeling appreciated and loved.
This post contains affiliate links, which means that if you click on one of the product links, I may receive a small commission at no extra cost to you. This helps support my website and allows me to continue creating valuable content for you. Thank you for your support!
11 Best Christmas Gift Ideas For Aries Women
1. Aries-themed Jewelry
Aries women love to stand out, and what better way to do it than with some uniquely crafted zodiac jewelry.
You can get her a piece that features her astrological sign or an Aries-related design, like the ram symbol.
This Aries bracelet is absolutely gorgeous and even comes with 5 additional crystals that are directly associated with the Aries sign!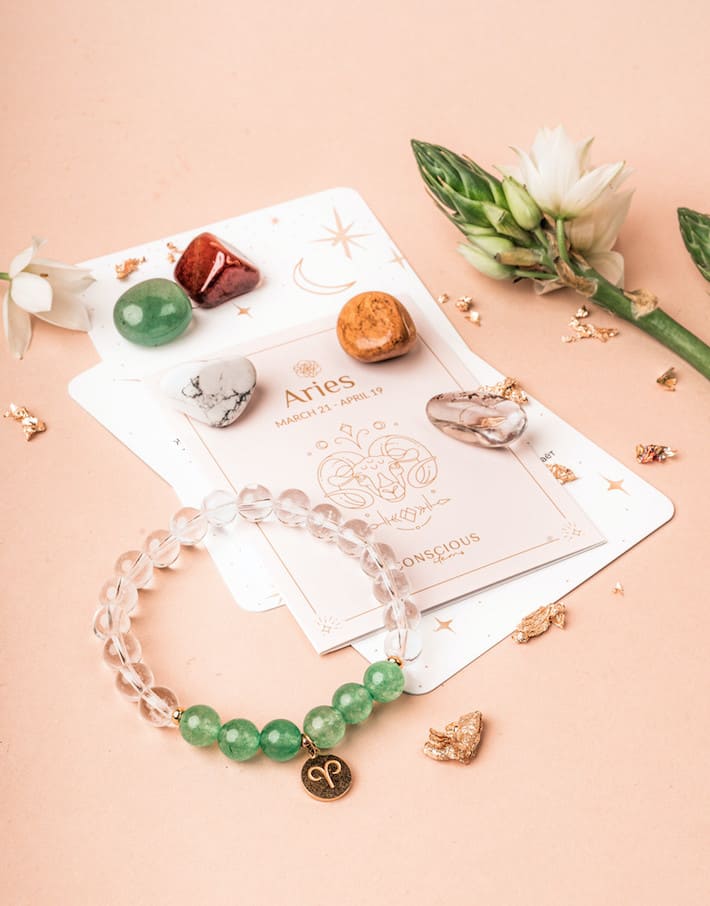 You simply can't go wrong with this gift.
2. Moon Lamp
Aries women are driven and passionate, but they also appreciate a moment of peace.
Gift her a beautiful moon lamp that creates a calming setting and reminds her of the comforting feeling of being close to nature.
I have this lamp myself and I absolutely love it!
It just gives off such a nice glow that I can't help but relax when it's switched on.
3. Wireless Noise Cancelling Headphones
Even though this gift is a bit pricier than most of the others on this list, it's certainly one of the best Christmas gifts for Aries women. 
Aries women are always on the go, and what better way to make their travels a bit easier than with wireless noise-cancelling headphones. 
These headphones provide superior audio quality and will let her tune out the world as she enjoys her favorite music and podcasts.
I personally own the Sony WH-1000XM4 headphones and I couldn't be more happy with them!
The sound quality is great, and I find the battery life to be really impressive.
On top of that, its noise-cancelling feature is rated one of the best in the market.
This will definitely please any Aries woman as they are known to highly appreciate moments of peace and quiet.
4. Zodiac Candle
A zodiac-themed candle is a great gift for an Aries woman who loves to relax and unwind with a lighted candle.
This Aries themed candle is absolutely stunning and is topped with crystals that represent her sign.
It also has a calming aroma that will help her relax and enjoy the moment.
If you're feeling creative, you can also make a candle yourself! Check out my other blog post right here where I explain step-by-step how to make your own crystal topped soy wax candle. It is super fun and makes for a great and unique gift. I made a few batches and gave them to friends and family (they absolutely loved it!).
5. Aries-Inspired Coffee Mug
A coffee mug with an Aries design is the perfect gift for those mornings when she needs a little extra energy and motivation.
If your person grabs a cup of joe every morning, then this is the perfect gift for them. 
I just love this cute zodiac-inspired mug that features powerful Aries related words at the bottom of the mug.
The mug will be a daily reminder that they are strong and capable of achieving whatever they set their minds to.
6. Aromatherapy Diffuser
Aromatherapy diffusers are great gifts for Aries women who love to relax after a long day.
The diffuser can be used to create a calming atmosphere in her home, while providing her with a natural way to enjoy soothing aromas.
This one is my favorite, and it has a beautiful design that will look great in any room.
On top of that, it comes with 6 essential oils, so she can start using the diffuser right away!
7. Digital Photo Frame
Help her display her favorite memories with pride by getting her a digital photo frame.
This way, she can customize the frame to show photos of her loved ones, vacation spots, or anything else that she cherishes.
As the frame connects to Wifi, it has instant and wireless sharing, allowing your Aries to change up her pictures as much as she likes!
8. Art Print
Aries women are creative and enjoy being surrounded by beauty.
Surprise her with a unique art print that reflects her Aries spirit and showcases her unique personality.
As Aries tend to love colorful and vibrant pieces, opt for an art print that has a bright and eye-catching design like this one!
This textured wildflower painting is just the piece she needs to add a touch of personality and style to her home.
I think I'm a little bit in love!
9. Kitchen Gadget
Aries women always love to find new ways to cook and experiment in the kitchen.
So what's a better gift than getting her a kitchen gadget that she can use to make recipes and meals easier and more enjoyable.
I really like this Ninja air fryer, which is a great kitchen tool for Aries women who want to make healthier meals without compromising on the taste.
In my experience, Ninja is a really awesome and reliable brand.
I have their blender as well, which is extremely powerful and easy to use (I use it almost everyday!).
10. Fitness Watch
Aries women are full of energy and love to stay active, so a fitness watch makes the perfect gift.
This way, she can easily track her progress and be motivated to keep up with her fitness goals.
This stylish watch from Fitbit has a sleek design that will make any Aries woman stand out.
It comes in different colors, so you can easily find one that suits her personality.
11. Audible Subscription
If she loves books, then an Audible subscription is the ideal Christmas gift for her.
It is a great way for her to enjoy her favorite books while on-the-go.
She'll be able to listen to the stories she loves and broaden her horizons with new books.
For example, this 'Little Book Of Self-Care For Aries' would certainly be a great fit!
But of course there's an infinite amount of books to choose from.
A subscription makes it easy for her to access the latest releases and audiobooks from any device whenever she pleases.
Final Thoughts
No matter which gift you choose, make sure to show your Aries woman how much she means to you this holiday season.
With the Christmas gift ideas I've shared with you here, you are sure to find a present that she will surely love and cherish throughout the year.
Now, get ready to see a smile on her face when she unwraps her Christmas gift from you this year.
I wish you and the Aries woman in your life a happy and blessed holiday season!